After the monsoon season, full of heavy rain and humid temperatures comes the relief of the autumn season. Autumn is perhaps one of the most pleasant times in India climate wise. It brings the comfort of cooler weather when the outdoors can truly be enjoyed. Gone is the intense sun and sticky temperatures, bringing a special time when a backyard or patio can transform into a personal oasis. Whether your idea of an outdoor retreat is a deck for entertaining, or a chic and modern lounge near the pool, these trends will inspire you to transform your outdoor space into the perfect reflection of your summertime style.
Bring the indoors out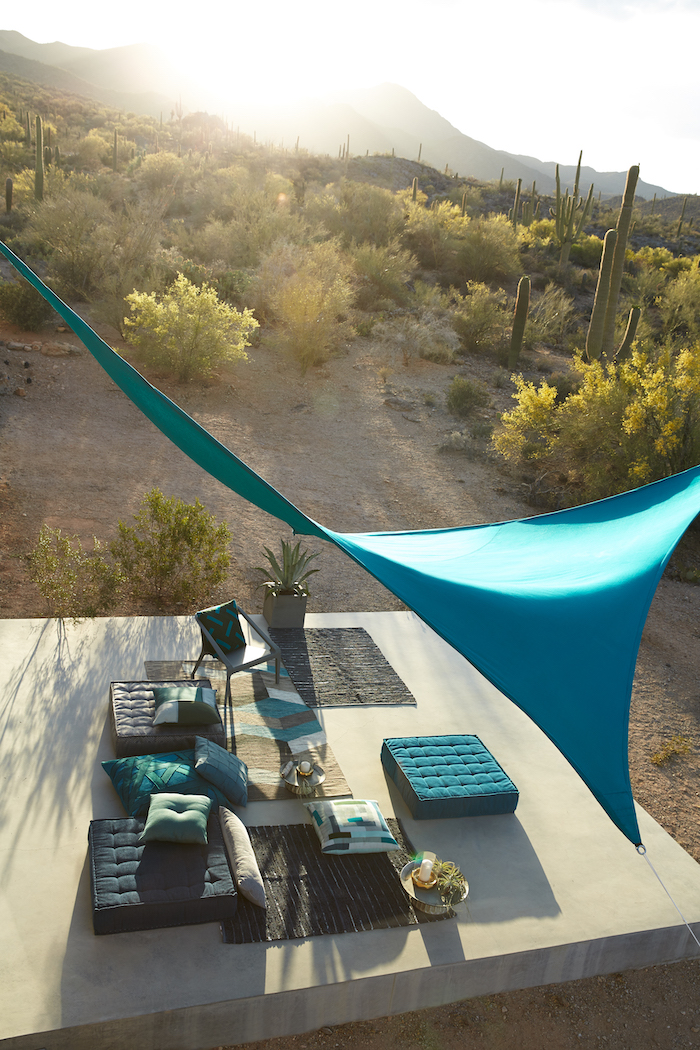 A recess in hot temperatures creates the perfect opportunity to blur the lines between outdoor and indoor spaces. The marriage of these two areas can unlock additional living space at home and ensure the outdoors are as comfy and inviting as the indoors.
Adding sun protection is not only a functional necessity but a design opportunity. Pergolas draped in beautiful outdoor fabrics provide much needed year-round sun protection and immense design flexibility. When featuring more neutral fabrics and timber accents, pergolas create a rustic vibe, while bold colors hanging from a simple structure evokes a more international flair.
Shade sails are also becoming a staple of chic outdoor spaces as the triangle shape adds a modern accent that elevates the space and creates a feeling of being in an open-air room. Immediately adding architectural intrigue to any home, shade sails are a great option for those who seek shade and style.
Return of the neutrals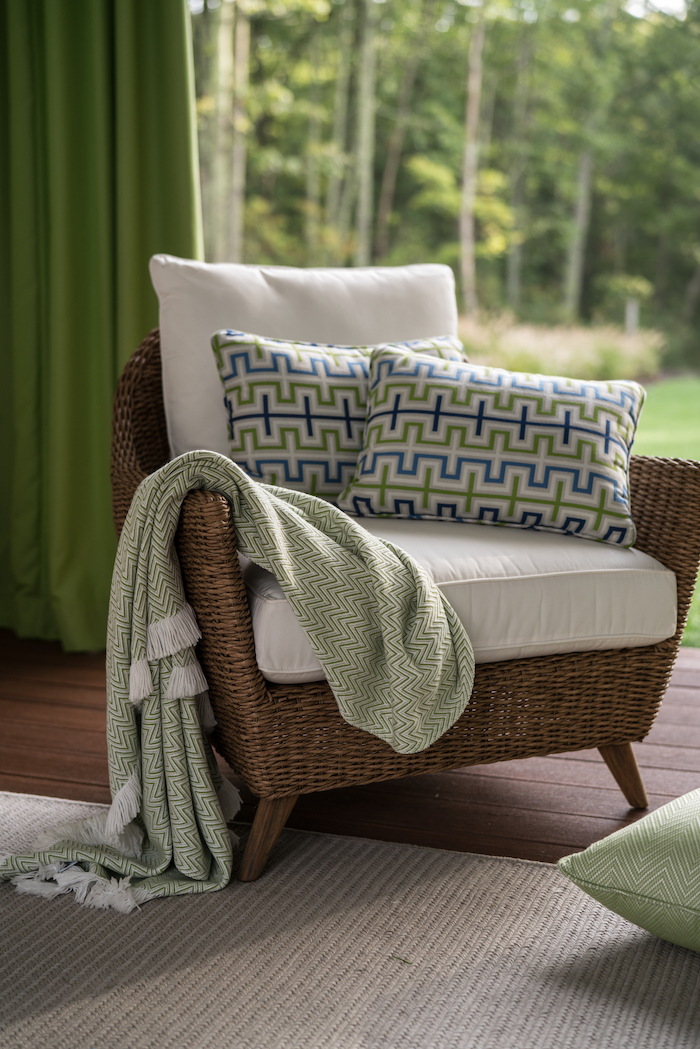 The amazing beauty of natural spaces continues to be an inspirational force in outdoor décor, ushering in a shift towards more natural colors for outdoor fabric that complement Mother Nature. The focus on vibrant and brightly colored patio furniture is a design of yesteryear, as earthy neutrals make a resurgence – but don't worry, there is always room for a kiss of color.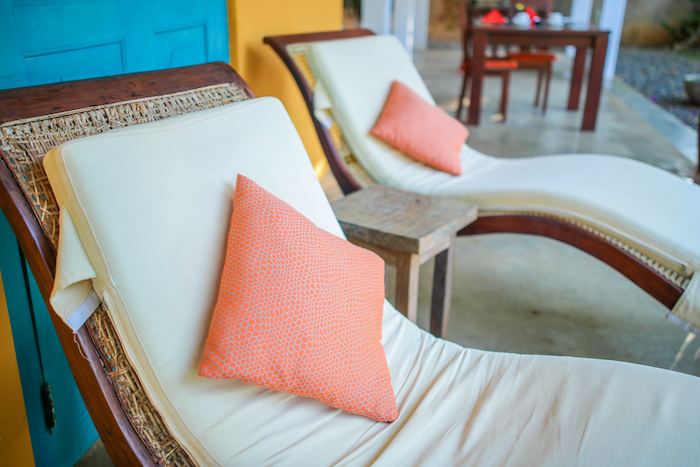 To bring the best out of your neutrals, focus these colors on the larger pieces of furniture, like couches and chair cushions. Then sprinkle in your favorite bold patterns and colors in your outdoor fabric through accent pillows and outdoor drapery. With neutrals serving as the base of your color palette, performance fabric is key. Selecting fabrics that won't fade in the sun, are comprised of stain resistant fabric, and can't be marred by mold or mildew is critical to creating and sustaining your outdoor oasis.
Function and movement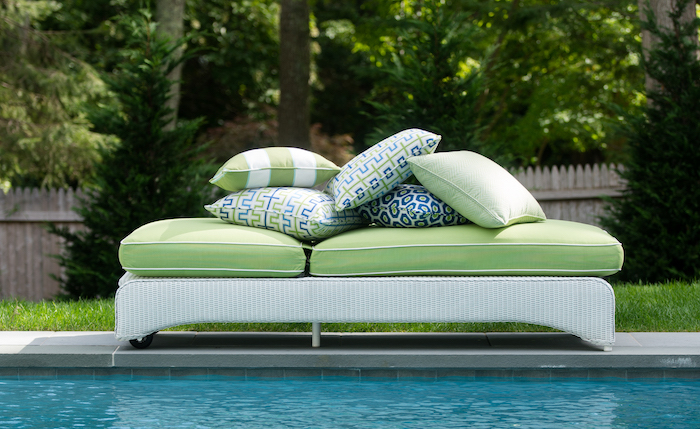 The changing of seasons provides the perfect opportunity to refresh your outdoor space. Creating flexible seating options and areas that can change to enable movement help ensure your space is never static and always ready for what's next. Utilizing performance fabric for these seating options helps protect against the outside elements, allowing your furniture to be placed just about anywhere.
The desire for flexibility and function has come to life through outdoor sectionals and modular pieces that create freedom and unlock creativity in layout and designs. Oversized and sumptuous pillows made with outdoor fabric can provide comfortable and movable seating and lounge space. Storage areas can be both functional and stylish when capped with a fabric-covered pillowtop. Even adding an outdoor rug can create casual seating and a place for kids and pets, while further merging the outdoor and indoor spaces using performance fabric.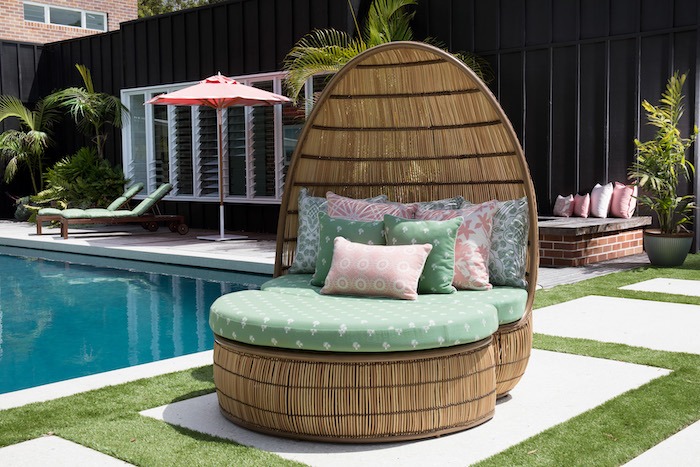 With furniture that will be moved and shifted multiple times each season, picking materials, such as Sunbrella fabrics, that are durable and strong will help keep your space cohesive and trendy while ensuring performance is not sacrificed for flexibility.
To learn more about creating an outdoor oasis, visit Sunbrella.com. Sunbrella is distributed in India exclusively through D'Decor.
Selecting fabrics that won't fade in the sun, are comprised of stain resistant fabric, and can't be marred by mold or mildew.